The Shining Star of Kangaroo Island
-5 Days 4 Nights-
Kangaroo Island, as the locals call it "KI", is located on a 30-minute voyage from mainland Australia. Kangaroo Island is protected by natural geographical barriers, and more than one-third of the land is registered conservation areas and national parks, while the rest is covered with green grass, lovely farm houses and small towns.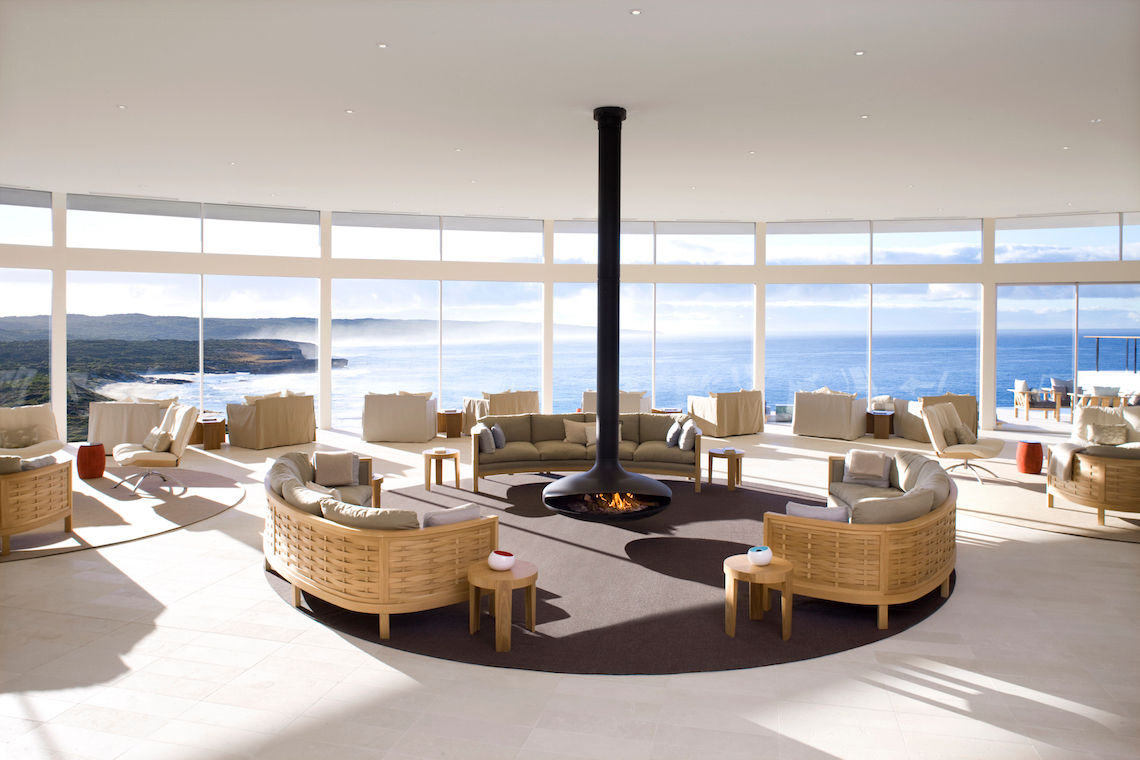 Seemingly simple and plain, Kangaroo Island is full of activities waiting for you to experience, and the most famous one is to spend a day encountering abundant wildlife. Situated at the south side of Kangaroo Island, Seal Bay Conservation Park is home to Australia's third largest colony of sea lions, where you can walk with them. Emu Bay is known for its crystal clear water and endless clean beaches, making it the most luxurious experiences for walking in the wind. In addition, the fresh seafood, cheese, exclusively brewed wine and more luxury cuisine are making the dining at Kangaroo Island a dynamic delight for senses and a true gastronomic journey.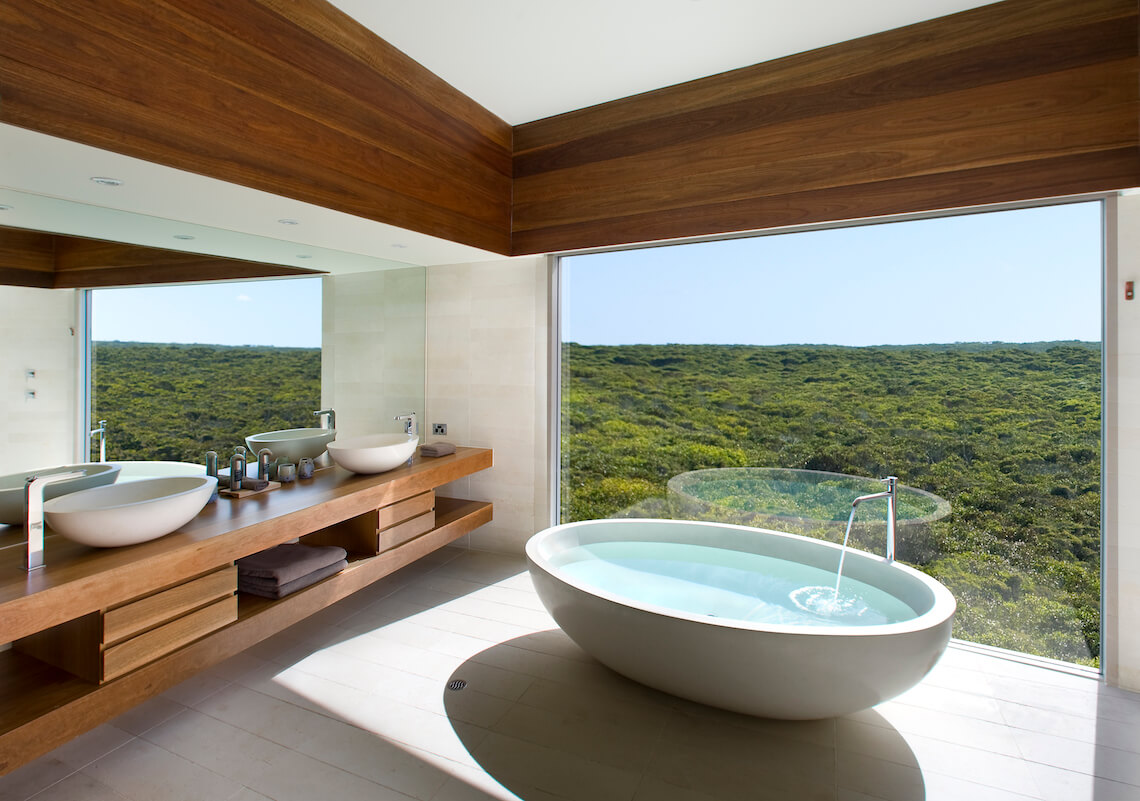 On Kangaroo Island, what we provide is Southern Ocean Lodge, the resort which is often on the list of the world's best hotel charts. Designed by renowned architect Max Pritchard, the 21 spacious suites of Southern Ocean Lodge arranged along the coastline offer guests a chance to appreciate the spectacular nature scenery. With famous limestone floor, interior decor with art spirit, wide terrace, and more remarkable design, this resort has once been ranked the world's fourth best hotel in 2016 by Travel + Leisure.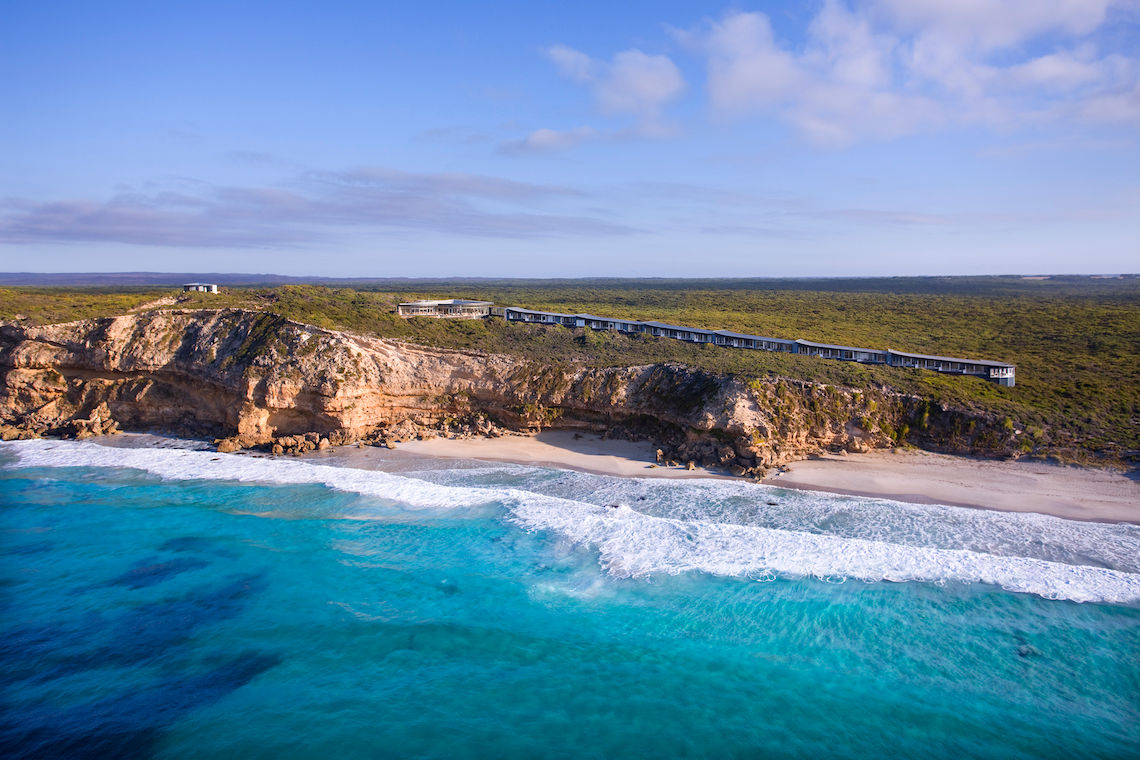 With Mediterranean climate, Southern Ocean Lodge is under the temperature about 20 to 30 Celsius degrees, though a bit chill in the morning and evening, it's still an excellent choice for vacation. Building along the coastline, the 21 rooms are divided into 5 different types, all feature an walk-in robe, lavish king beds, sunken lounge, providing the most comfortable and intimate time regardless of any types of the rooms. The dramatic glass walled bathroom makes you immerse in the natural scenery outside, while the wireless internet and music player help you develop your own music playlist, making you feel at home.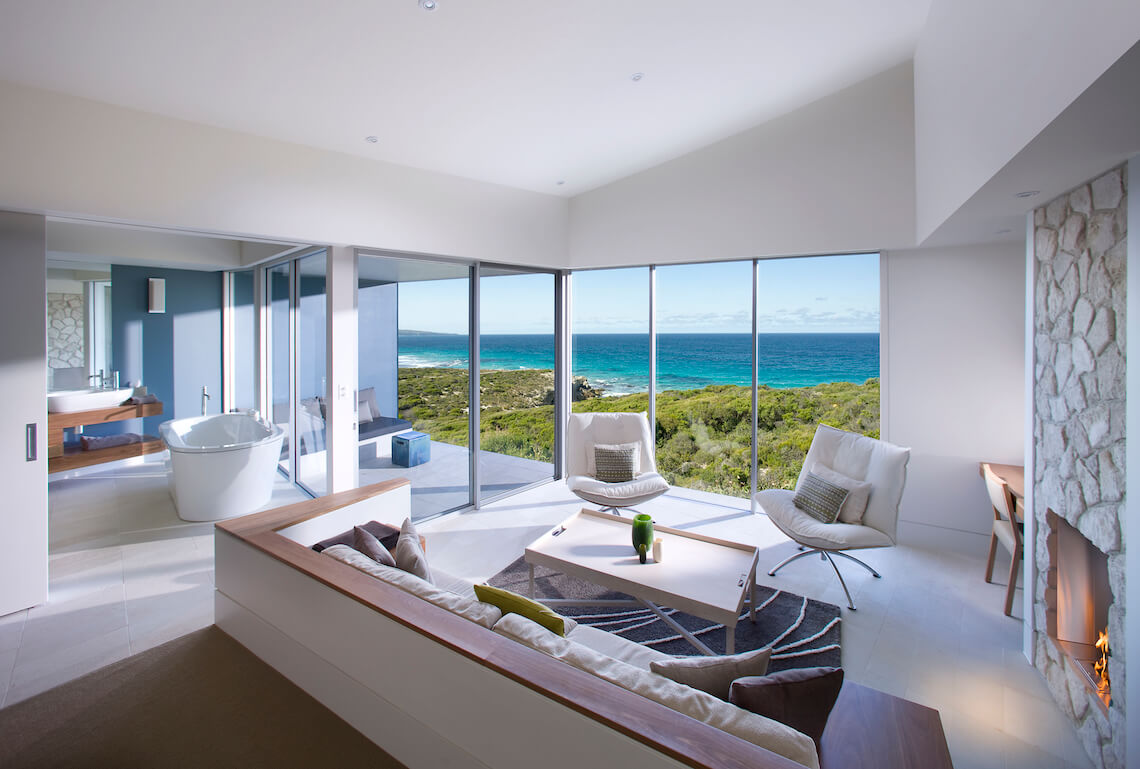 The delicate cuisine are also served in Southern Ocean Lodge in private lodge or splendid restaurant The Great Room. The well-known beverage menu of Kangaroo Island is also prepared in Baudin Lounge of Southern Ocean Lodge. After the dining, you may go ahead to the Spa to ease your body and mind. The design of the private Spa space is inspired by the coastline, and the original therapy treatment is developed from the daydream of aborigines. The professional therapists will use Li'Tya, the acclaimed Australian-made spa products, to relax your skin and tensed mind.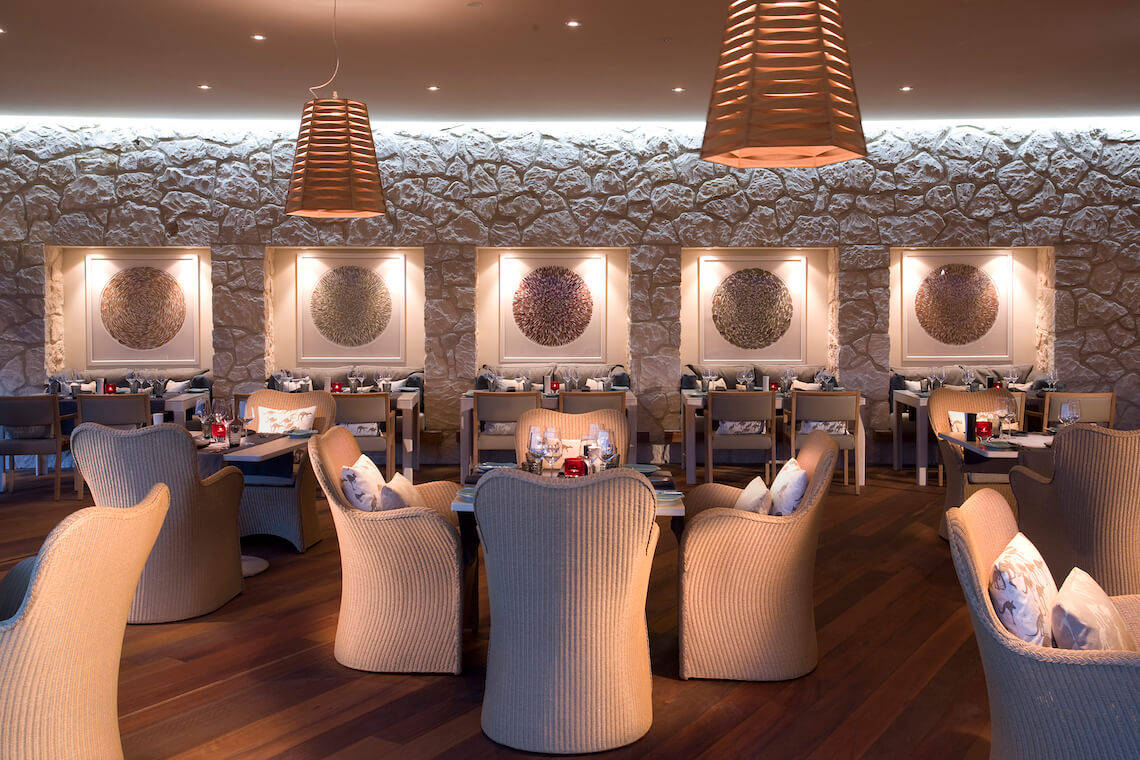 Southern Ocean Lodge offers guests a complete and personal Kangaroo Island experience. Whether it's walking with the sea lions in the National Park or facing a kangaroo, or follow the local dwellers to discover the culture, all can get your mind back to the purest state. Of course, more activities like mountain biking, fishing, art craft discovery can also enrich and relieve your mind in the meantime.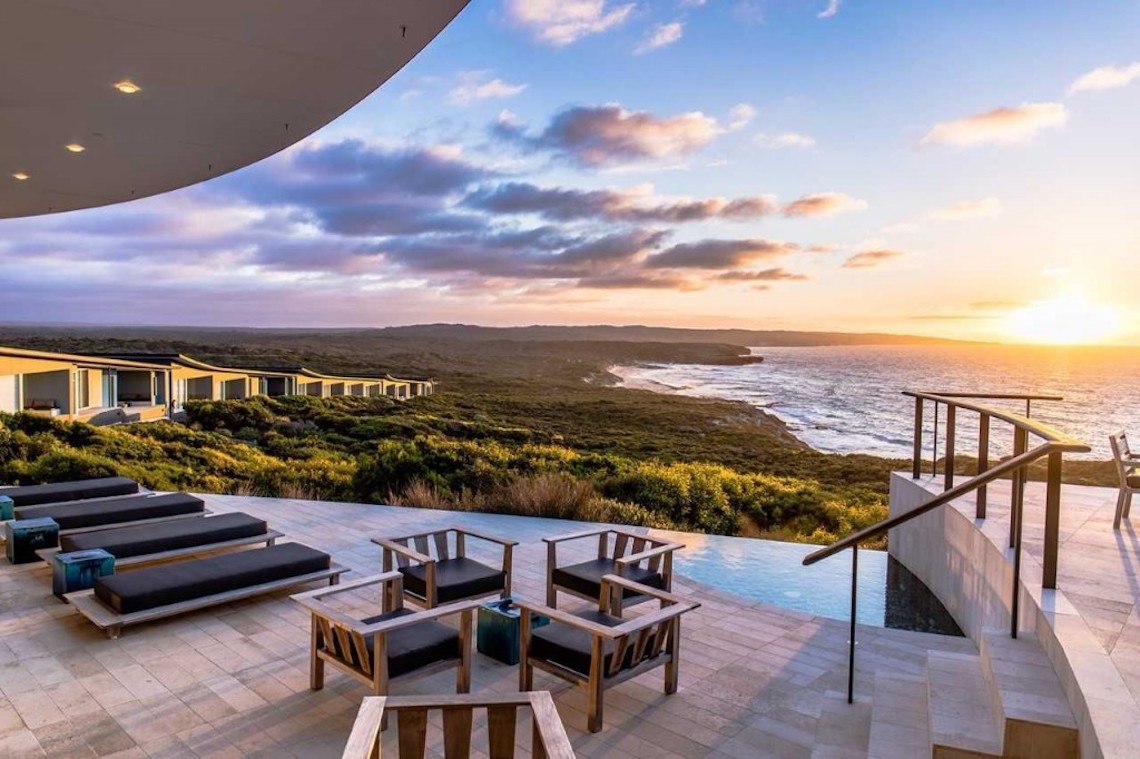 Flinders Suite
The Flinders Suite features floor to ceiling glass to embrace an uninterrupted view of the magnificent Southern Ocean and foreground of rugged coastline. Each suite features spacious interiors at 65m², king or twin beds, curved sunken lounge with bespoke soft furnishings, walk-in robe, ensuite with oversized rain shower and in-suite bar. An outdoor terrace with day bed invites.
* Flinders Suites are ideal for one or two persons in existing bedding.
$4,210 up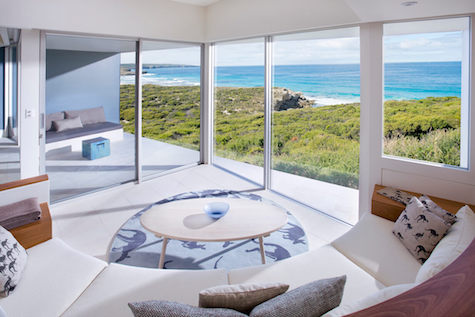 ---
Ocean Retreat
The Ocean Retreat is a delight. With fabulous views of the Southern Ocean and generously spaced at 75m², the Ocean Retreat is perfect for spending time at leisure. Lavishly appointed king bedding, sunken lounge with hand cut limestone EcoSmart fire place, walk-in robe and in-suite bar feature. A bathroom overlooking the ocean boasts an irresistible freestanding tub and oversized rain shower. Step outside to private terrace with day bed.
* Ocean Retreats are ideal for two persons in existing bedding.
$5,000 up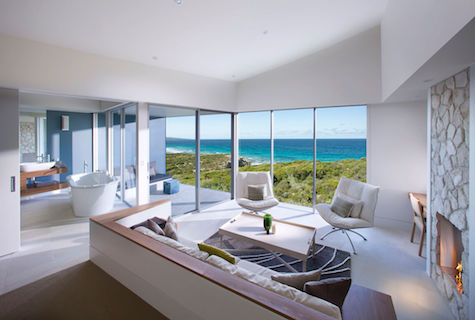 ---
Ocean Premium
Perfect for an unforgettable family sojourn, or friends travelling together, the Ocean Premium features two generously sized bedrooms, each with walk-in robe and ensuite (the main with deep tub overlooking the sea). The bedrooms is configured as two king beds and are linked by a central sunken lounge area with hand cut EcoSmart fireplace, LCD TV and DVD player. At 120m² with outdoor terrace and daybed, the Ocean Premium is a luxe retreat for all.
* Ideal capacity is four persons OR two adults + two children in existing bedding.
$5,785 up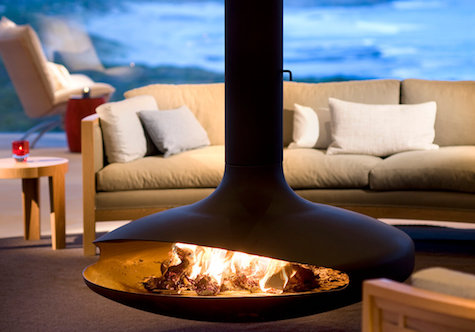 ---
Remarkable Suite
The aptly named Remarkable Suite is a luxuriously decadent retreat, with spacious interiors spanning 120m² and floor to ceiling glass commanding views of sea and sky. This suite features a sumptuous king bedroom with walk-in robe, a separate lounge area with custom occasional seating, EcoSmart fire and premium entertainment system, LCD TV and DVD player. A handmade timber bathtub overlooking the Southern Ocean distinguishes a generous ensuite. Revel in the landscape on an expansive outdoor terrace with day lounge and private spa bath.
* The Remarkable Suite is ideal for two adults in existing bedding.
$6,575 up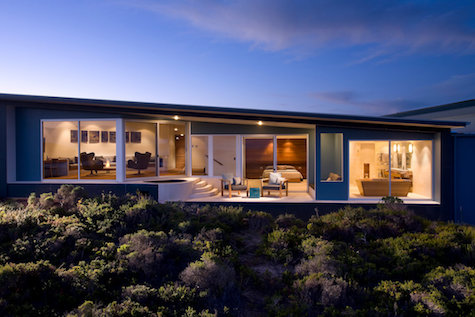 ---
Osprey Pavilion
The super premium Osprey Pavilion is the ultimate in luxury, perfect for a special occasion with soul stirring panoramic views of the ocean, white-sanded beach and untouched coastal wilderness.
A unique curved floor plan in excess of 120m² features a magnificent king bedroom with generous walk-in robe, separate sunken lounge with lavish custom furnishings, EcoSmart fire and state-of-the-art audio visual system. The open bathroom commands views to the horizon, and boasts a hand sculptured granite bath, heated limestone floors and deluxe rain shower. An awe-inspiring outdoor terrace with sun lounges and private plunge spa extends into the coast for a personal nature meets luxury experience. It's the wow!
* The Osprey Pavilion is ideal for two adults in existing bedding.
$8,940 up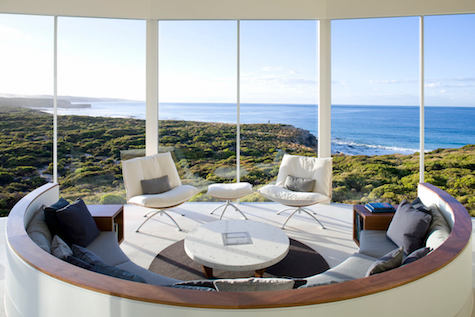 ---
Our Services
Daily Featured Breakfast
Greeting Champagne
Mini Bar in House
Turndown Service
Mountain Bike
DVDs / Books / Games Library
Seal Bay Tour
Kangaroo Island Half-Day Tour
Hanson Bay Tour
Wine Tasting Experience in Grassdale
Shuttle Service from Airport
Priority for Exclusive Upgrades
Remarks
Your reservation will be confirmed after having received a confirmation mail from us.
In event of bad weather, you can reschedule the departure date or cancel the tour, getting a full refund.
Despite reasons given above, no change or cancel is accepted once your reservation has been confirmed.
Each room's quantities are limited. LuxPin reserves rights to refuse the order.
This product includes the shuttle service.